Where do the words come from?
As you might expect it is often asked "where do the words come from". Miles had a few standard practices behind word list generation however, no artist or inventor can ever fully explain where their inspiration came from.

Miles' rules were simple. Each list of words was hand assembled and based on a particular theme or idea. Words that make a list would come completely from Miles head, he did believe in using a dictionary or any other aid. All lists were generated by pen on paper and later made digital for use in a word clock.

While touring the Midwest to demonstrate early prototypes, Miles accidentally discovered the "stereo effect" -- two Rhymex Word Clocks at a time from two separate word lists -- when he happened to plug in two prototypes at the same time in his hotel room. Stereo added a new dimension to the entertainment factor. The "unpredictability factor": two separate word lists will eventually play millions of different combinations. Coincidence abounds, cliche shatters, and the combinations are often so unlikely as to be humorous. Paradoxically, these combinations often seem quite relevant to your current situation.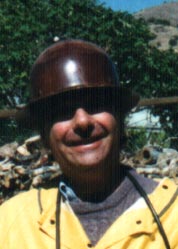 Miles and his "Thinking Cap"