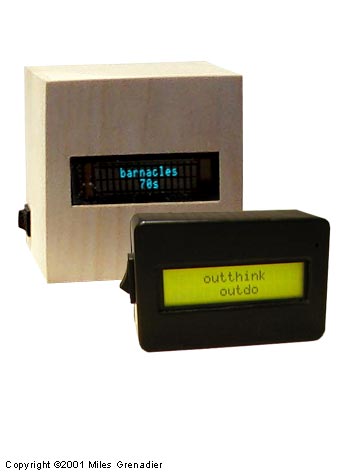 Richard Miles Grenadier was found dead at his home in Bisbee on April 17th. He died suddenly and unexpectedly of a heart attack. He was born on December 22, 1944 in Bronx, NY. He graduated from A.B. Davis High School in 1962, and from the Wharton School of the University of Pennsylvania in 1966. He worked in Columbia with the Peace Corps before becoming a stock broker, director of the First National Braintrust think tank, and an inventor. He holds a U.S. patent for an energy saving "Vehicle Payload Lightener". He pursued the development of random word clocks since 1984 (see www.Rhymex.com). Miles married Anne Crooks, had one child, and was later divorced. He was survived by his mother, Florence Neidich, his brother, Edward Grenadier, his daughter, Alexi Grenadier Conine, and two grandchildren, Arden Knox Conine and Max Miles Conine.

Miles loved to travel, hike, play chess, ping pong, write wordlists for his random word clocks, and spend time with his grandchildren. He was also a sailor and basketball player in his youth. He was kind, generous and fun-loving, with an outstanding sense of humor, and will be missed by all who knew him.

A memorial service will be held for Miles at the Sharon Gardens Cemetery in Valhalla, NY at 10am on Thursday, April 26th. In lieu of flowers, please consider making a donation in his memory to support "1000 Days at Sea - The Mars Ocean Odyssey" at 1000days.net.